1. Overview
KW3611 DV supports DVI transmission (up to 1920x1200) and stereo audio over one single mode or multimode fiber without compression, scaling or adjustments. It is ideal for Digital signage, broadcast or corporate studio, auditorium, stadium and theater, airport or transportation hub, distance learning, and surgical or medical imaging applications, to name a few.



2. Features
a)1-channel DVI video signal of computer over one fiber optic
b)10-bit digital video encoding and uncompressed transmission technology
c) Applied to the needs of computer long-distance transmission of industrial monitoring, large venues etc…
d)Strictly selection material and quality control in order to ensure high quality and high reliability
e)DVI, HDMl interface optional
f)System status could be monitored by the power and other parameters LED indicator
g)Compact size
h)Excellent cost performance
i)SMT Surface Mount Technology
j)Support 1U rack mount, 4U rack mount and stand-alone
k)Lower power consumption and free installation, debugging

3.Specifications
a)Video
Channel: 1
Video type: RGB with stand-alone and sync H, V
Input level: 1Vp-p
Output level: 1Vp-p
Bandwidth: (-3 dB):300MHz
Digital bits wide: 10bits
Resolution:
•640X480 @ 70fps •1920X1080 @ 25fps
•1024X768 @ 60fps •800X600 @ 70fps
•1600X1200 @ 30fps • 1280X1024 @ 30fps
•720X576 @ 50fpsv •720X480 @ 60fps
•1440x900 @ 30fps •1280X720 @ 30fps
•1680x1050 @ 30fps •1400 x1050 @ 30fps
•1360x768 @ 30fps
Connector: HD-15(DVI、HDMI optional)

b)Power and environmental indication
Stand-alone power: 5W
Insertion power: 5W
Power adapter: 220VAC to 12VDC/1A
Operating temperature: -40°C to +70°C
Relative humidity: < 95% (no condensation)

c) Dimension
Stand-alone size: 184 x 140 x 45 (mm)
Insert size: 260 x 173 x 40 (mm)
Stand-alone weight: 2.0Kg
Insert weight: 1.5Kg

d)Optics
Wavelength: 1310/1550nm
Fiber optic type: single-mode
Max. Link loss: 12dB (bigger options)
Output power: –5 ~ –10dBm
Receiver sensitivity: 18dBm
Connector: FC/PC (SC or ST optional)
4.Applications
TV station, live rebroadcast, etc...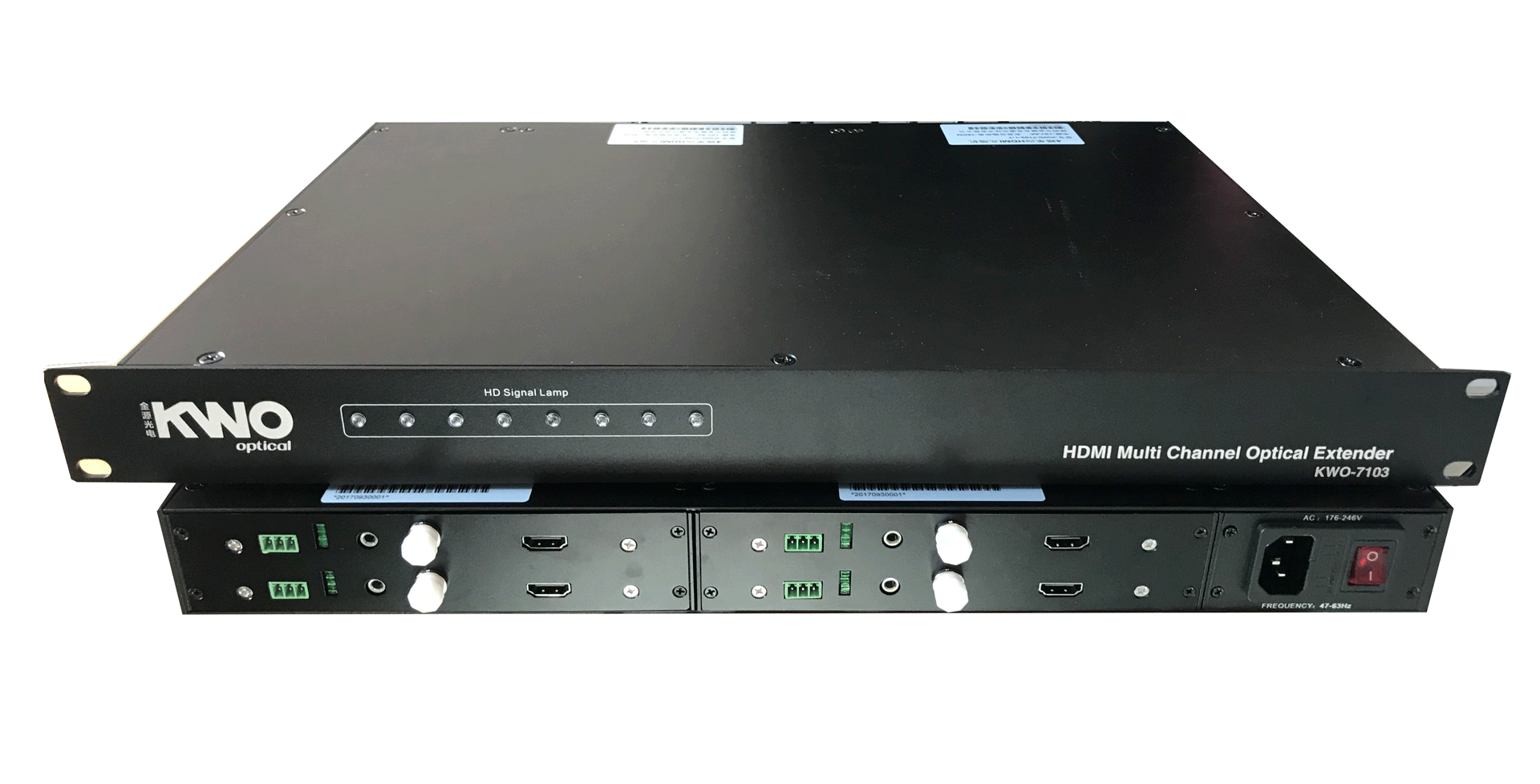 5. Ordering information
DVI Digital HD transmission
HC 3611-T-20-ST (Model)
DVI Digital Video Fiber Optic Transmitter, 1310nm/1550nm Single-mode Laser,–5 ~ –10dBm, Stand-alone & Rack-mountable (Specify FC/PC, SC /ST optional)
HC 3611-R-20- ST (Model)
DVI Digital Video Fiber Optic Receiver, 1310nm /1550nm Single mode, -18dBm sensitivity, Stand-alone & Rack-mountable (Specify FC/PC, SC /ST optional)